Product Description
HPL Wooden Tube Slide Park Equipment For Kids
Introduce:
HPL Wooden Tube Slide Park Equipment For Kids is popular these year. It can put in the backyard or in a public park. HPL Wooden Tube Slide Park Equipment For Kids provides the opportunity to add fun to smaller spaces and to update the play space with minimal expense. When playing this equipment, children's ability of climbing, jumping, running,balance and they can play with their best friend together. HPL Wooden Tube Slide Park Equipment For Kids is also a multiplayer game, which can develop hand and foot coordination of kids. Children can develop their climbing and balance. The quality of this play game is guaranteed and the material of it is environmental HPL. You can find the detail information of HPL later.
What's more, our factory are also mainly produce outdoor playground, indoor playground, climbing playground and trampoline park.

Features of Products:
1)The activity multi-functional tower combines climbing net, tube slide, play game panel, interactive play and the children's ability of climbing, balance, running, imagination can be greatly developed. It also can realize multiplayer game and let children enjoy the play freely
2) Most of the elements are anti-crack, anti-fade, non-toxic, anti-UV resistance and easy to keep clean
3) Application Park, residential, kindergarten, landscape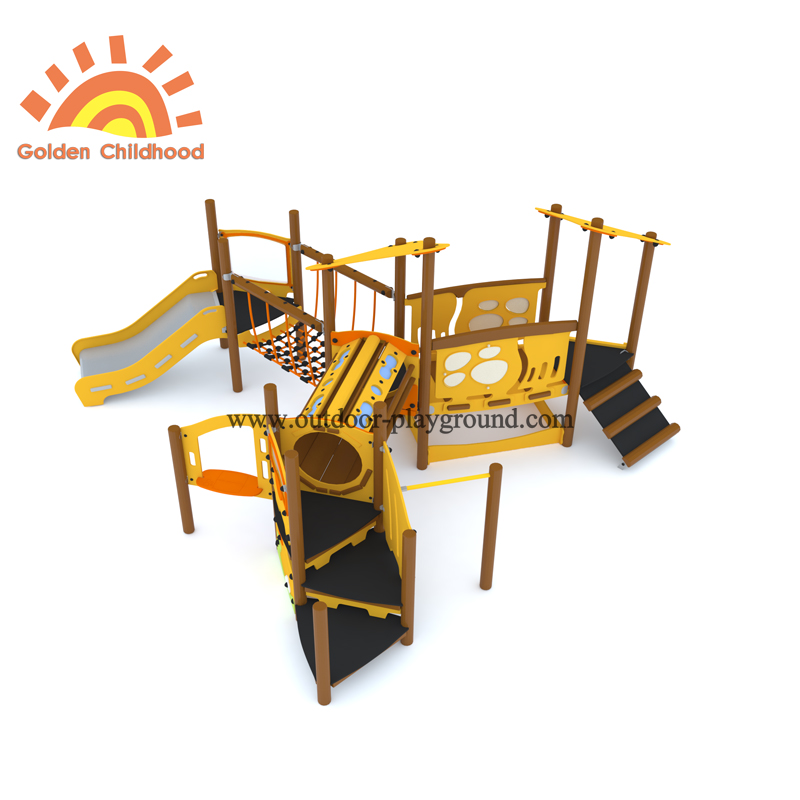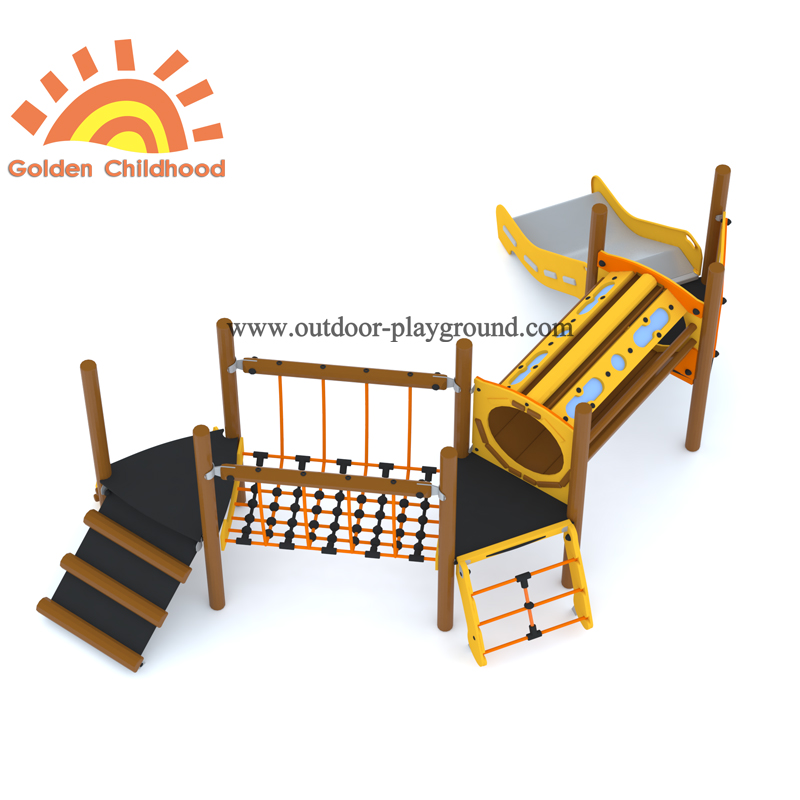 What is HPL?
HPL is the abbreviation for High Pressure Laminate, which is made of 65% craft paper and 35% thermo setting resin which both polymerize under heat and very high pressure. This creates a very dense, hard and form-retaining sheet (HPL). HPL is regarded as one of the most durable and environmental decorative material compared to most wooden material.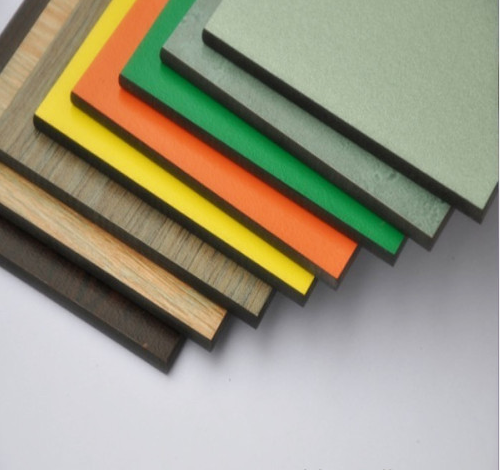 Why HPL is eco-friendly?
Let's first analyze it from the raw material kraft paper. Kraft paper is a natural bio-material, which is unbleached, recyclable and the product of renewable and actively renewed resources. The pulp is made from long virgin fibers of maritime pine and is not bleached, to ensure minimum chemical processing and to retain the wood's natural color which means the process of making kraft paper has saved numerous wood compared to traditional one.
The features of HPL:
High-Pressure Laminate (HPL) is a material that is not only easy to install but is also extremely robust.
1)HPL is made of kraft paper. It can save a lot of wood and much more eco-friendly than plastic.
2) It is resistant to impact, scratch, heat, abrasion and most chemical substances.
3)It`s easy to clean and the antimicrobial properties ensure that the products look new & shiny for the years to come.
4)Compared with plastic, it is more easy to packing and reduce the cost of transportation because it can save a lot space.
What is our original intention of using HPL instead of plastic ?
Basically, a lot of play sets are made from different kinds of plastic. Our Golden Children company will try our best to reduce the usage of plastic parts on our playground equipment. We all known that it has several damages to earth we are living on and the most serious problems are Global warming and Marine pollution.
When plastic is exposed to direct sunlight, it can react to produce the harmful greenhouse gases (GHG) methane and ethylene. And effects that scientists had predicted in the past would result from global climate change are now occurring: loss of sea ice, accelerated sea level rise and longer, more intense heat waves, glaciers have shrunk, ice on rivers and lakes is breaking up earlier, plant and animal ranges have shifted and trees are flowering sooner as well as more and more natural disasters happened than before like Typhoon, Tsunami and so on.
We can see from photo that there are thousands of millions of marine plastic garbage floating on the ocean, beach. And every year, there are a large number of marine animals die because of that. Whales were stifled by these plastic garbage; sea turtle was entangled in a fishing net; dolphins were stranded on the beach which is full of water bottles. We have to through a thoughtful introspection ourselves about the damage of the convenience that plastic bring.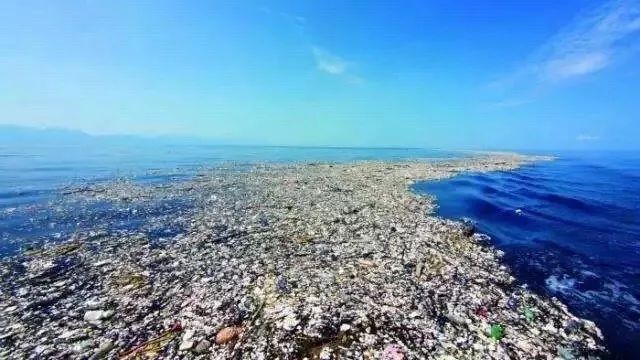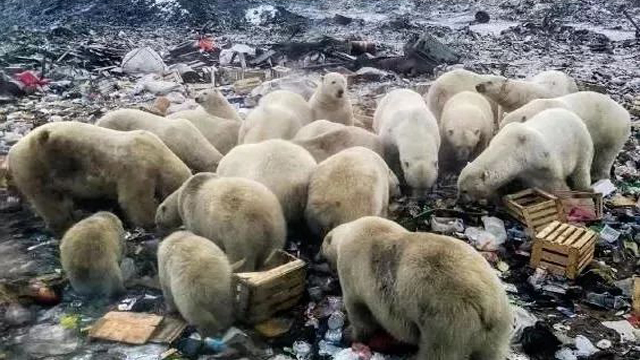 As we all know that there are two ways to relieve the environmental pollution.
One way is to carry out garbage classification. Some countries like Korea, Japan, has achieve the goal last century. People who live in Korea need to report online and pay for their large household refuse, otherwise they will be fined a large number of penalty. For Japan, people can only drop litter on one day in a week at regular time for one kind of garbage. And for some western countries, like Britain ,America, Germany and Sweden, they have mature regular about waste classification. They have different garage bin with different colors, people need to buy them from their community and pay for their garbage every year. While Waste Classification is a good way to relieve environmental classification, because it can reduce the amount of non-recyclable waste and improve the recycling rate of recyclable waste.
And the other is to use eco-friendly material to replace harmful plastic. Most of the playground Equipment in our company is made of HPL, wood and steel with high recycling rate which up to 85%.To appeal eco-friendly aim of our company, our Playground Equipment are encouraged to use HPL instead of using common plastic. Good products like HPL Playground Equipment need promotion.
Our Golden Children company will try our best to reduce the usage of plastic parts on our playground equipment. There is no doubt that environmental material is the future trend that we should and must pursue constantly and undoubtedly no matter for environment or your own business. So you have no reason to reject a environment-friendly material for your business or your future business!